Duvine was founded in 1981 as a designer and manufacturer of bespoke DC power systems and associated equipment.
Early major projects included 12VDC trackside telecoms power systems for British rail and roadside 24VDC power systems for Highways Agency transmission stations.
The rise of the telecommunications industry in the 1990s led to the development of a range of modular 48VDC power supplies and distribution units used by such companies as NTL, Greenwoods Communications, MLL Telecoms and Cable & Wireless. We were the primary supplier of DC power equipment for the Cable & Wireless infrastructure during this period.
In 1998, Duvine entered an agreement with AMV Electronica for the distribution of our equipment in Spain and South America; a relationship that continues to this day.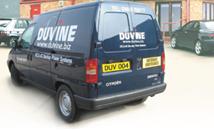 Following the downturn in the telecoms industry at the start of the 2000s, Duvine diversified their activities to include a new bespoke range of battery chargers for Network Rail. These are used for safety-critical applications such as level crossings and point-end switching systems. Duvine also became the UK distributor for the Rectifier Technologies Group, an Australian electronics products company.
Duvine was purchased by Rectifier Technologies in 2006 and subsequently changed their name to Rectifier Technologies (UK) Limited. Following the acquisition, a new range of special power equipment was developed by the UK design team to replace the group's existing range for impressed current cathodic protection applications.
In 2014, the UK part of the group was purchased by DMS technologies, a leading supplier of DC power systems and battery based electrical products, and the company name was changed to Duvine Limited.